Induction heating is the process of heating a conductive material, i.e. a metal or semi-conductor, by electromagnetic induction, through heat transfer through an induction coil that generates an electromagnetic field within the coil, heating and possibly melting steel, copper, brass, graphite, gold, silver, aluminum or carbide.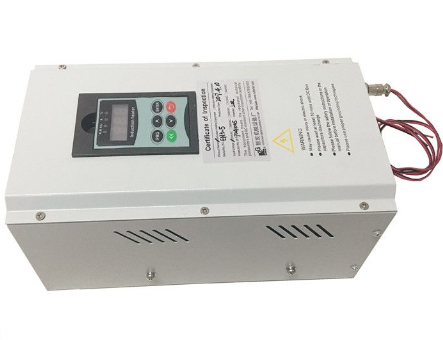 How Does Induction Heating Work?
Now that we know what induction heating is, let's take a closer look at how it works. As we mentioned before, induction heating uses electromagnetic induction to heat objects. But how does this process work?
First, when an alternating current is applied to the primary of a transformer, an alternating magnetic field is created. According to Faraday's law, if the secondary of the transformer lies within the magnetic field, a current is induced.
In a basic induction heating setup, a solid state RF power supply sends an AC current through an inductor (usually a copper coil) in which the part to be heated (the workpiece) is placed. The inductor acts as the primary of the transformer and the part to be heated becomes the shorted secondary. When the metal part is placed inside the inductor and enters the magnetic field, circulating eddy currents are induced within the part. These eddy currents flow against the resistivity of the metal, generating precise localized heat without any direct contact between the part and the inductor. This heating occurs in both magnetic and non-magnetic parts and is often referred to as the "Joule effect," referring to Joule's first law, which represents the relationship between the heat generated by an electric current passing through a conductor.
Second, hysteresis generates additional heat within magnetic parts - the internal friction that occurs when magnetic parts pass through an inductor. The magnetic material naturally provides resistance to the rapidly changing magnetic field within the inductor. This resistance creates internal friction, which in turn generates heat.
As a result, there is no contact between the inductor and the part during the heating of the material, nor are there any combustion gases. The material to be heated can be located in an environment isolated from the power source; submerged in a liquid, covered by an isolated substance, in a gaseous atmosphere or even in a vacuum.
We are a professional manufacturer of intelligent and energy efficient induction heating equipment series and a well-known manufacturer of induction heating equipment for batteries in China, if you want to know more about induction heating, please contact us. We will provide professional answers.